Peaks of the Balkans in September group
Highlights: of the Hike Peaks of the Balkans
Village of Theth – Visit one of the most picturesque and isolated villages of Albania
Hiking in the wild – Hike in some of the least visited trails in Europe.
Three countries – Visit three countries in one hike
Gjeravica – Highest mountain peak in Kosovo surrounded with pristine nature and glacial lakes home to Triton salamanders.
Cold War Bunkers – See the bunkers in the most remote area built by communist Albania when tension were high with the Yugoslav regime
Taljanka and Grbaja Valley – Climb Taljanka peak with a view in Grbaja Valley, considered as the most beautiful in ex-Yugoslavia.
Minimal internal transfers maximum highlights…watch the video
Price: Euro 830 Dates: September 8 – 18 see other dates
Why Balkan Natural Adventure: We provide an extra guide if the group is bigger than 5. We are a service oriented company featured in the Financial Times (see the video above), The Strait Times of Singapore, Wanderlust, The Guardian, and others. We are open to client comments being rated highly on TripAdvisor. And last but not least we are a locally owned company providing good working conditions for our guides and partners.
ITINERARY
September 8, Sunday – Meeting in Shkodra. Transfer to Theth
Arrival in Tirana Saturday BA flight from London or Podgorica, Sunday TUI  flight. For travelers from other countries, we will be able to find your best flight. Meeting in Shkodra for the brief with the guide and transfer to Theth.
September 9, Monday – Hike Theth – Valbone
September 10, Tuesday: Hike Valbone – Cerem
September 11, Wednesday: Hike Cerem – Doberdol
September 12, Thursday: Doberdol – Gjeravice – Doberdol
September 13, Friday: Hike Doberdol – Milisevc
September 14, Saturday: Hike Milisevc – Babino Polje
September 15, Sunday: Hike Babino Polje – Plav. Transfer to Vusanje
September 16, Monday: Hike Vusanje – Grbaja Valley – Vusanje
September 17, Tuesday: Hike Vusanje – Theth. Transfer to Shkoder
See the Photos of Australian photographer Ken Space
Included in the price:
Accommodation: 10 nights – Guesthouse with shared rooms and provision of basic amenities: bed and sheets, towels, bathroom, warm water for shower. (For private accommodation please contact us, available but limited)
Food: Three meals from day 2 to day 9. Day 1 (Sunday) only dinner day 10 breakfast and lunch. Food is homemade, the diner is cooked, breakfast includes eggs, dairy products, vegetables, and bread. For lunch, you will have a pickup sandwich. Vegetarian, vegan and other diets available.
Guide: Balkan Natural Adventure will provide an English speaking experienced guide. An assistant guide will also be added to the group if the group is larger than 5 people. This will make sure the tour will accommodate different walking speeds.
Transfers: All internal transfers included, the transfer from airport and back is not included in the price but can be provided, at additional cost.
Not included:
Luggage transfer is not provided in open date tours, however, it can be provided on demand.
Airport pickup.
No insurance is included in the price this should be secured by the travelers.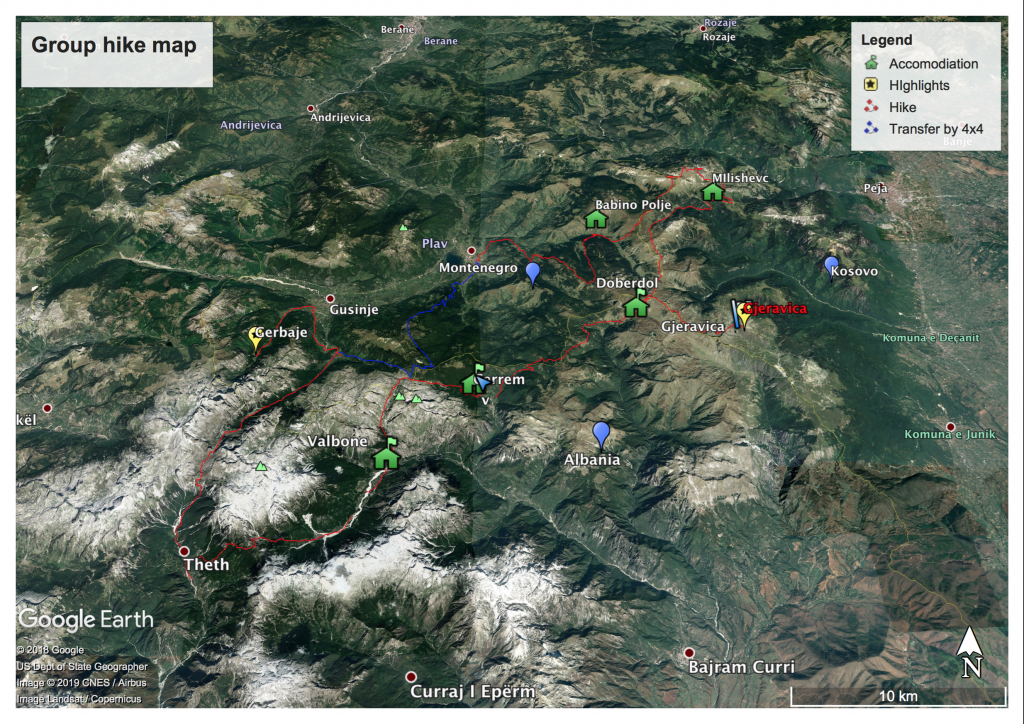 Map for Peaks of the Balkans with BNA
Read about our fight against rubbish