Join us for adventure
Join us for a beautiful trek on the spectacular Peaks of the Balkans trail. Walk through untouched Accursed Mountains lying in three Balkan countries. This hidden corner of Europe is prized for its beautiful nature, friendly people, and hospitality. Discover this unexplored corner of the European Continent!
HIGHLIGHTS
Village of Theth – Visit one of the most picturesque touristic villages in Albania
Hiking in the wild – Hike in this hidden corner of Europe
Three countries – Visit three countries in one hike
Gjeravica – the highest peak in Kosovo surrounded by glacial lakes and home to the Triton salamanders.
Cold War Bunkers – During the Communist period, Albania spent a fortune building concrete bunkers to prevent an invasion. Now that era is past and the protected borders promote peace and cooperation.
Taljanka and Gerbaja Valley – Considered the most beautiful valley in the ex-Yugoslavia; stop for the bronze-age carvings of wolves and men.
Food: Experience the unique cuisine and hospitality of the Accursed Mountains provided by the local villagers.
Price: Euro 890
Dates 2024: May 25 – June 4;  June 15 – 25;    July 6 – 16;    July 20 – 30;    August 10 – 20;    August 24 – September 3;    September 7 – 17;    September 21 – October 1;   October 5 – 15;
INTRODUCTION
Peaks of the Balkans is the first lengthy hiking trail to traverse the Western Balkans, an area where ancient tracks connect remote regions. The epic walk passes through villages, separated by strict borders and fortified by bunkers that were built over two generations when communist regimes controlled Yugoslavia and Albania. Winding through meadows, mountain peaks, lakes, and woodlands, this is one of the most diverse walking trails in the world. The views and the trails transform, switching from rocky paths and bare peaks to meadows rich with flowers and plants, where nature has been left to run wild. In stark comparison to Western Europe, where the grass is not cut, and the land is left alone for nature to follow its course.
WHY BALKAN NATURAL ADVENTURE
For Peaks of the Balkans 2024, our company provides an extra guide if the group is bigger than eight to accommodate the different speeds of the group. We are a service-oriented company that has been featured in the Financial Times, The Guardian, The Strait Times of Singapore, and other media See our references. Try our flexibility options – shorten or extend your trip for cultural tours. For some longer hikes, we provide transport for the last kilometers, if there is a need.
PACKAGE INCLUDES
Accommodation in shared rooms, 10 nights
Meals: 2nd to 9th day three meals; 10th day breakfast and lunch packet
Entrance fees for the National Parks
PACKAGE EXCLUDES
Luggage transfer can be offered on demand.
Airport pickup can be provided on demand.
Insurance should be secured by the travelers
ITINERARY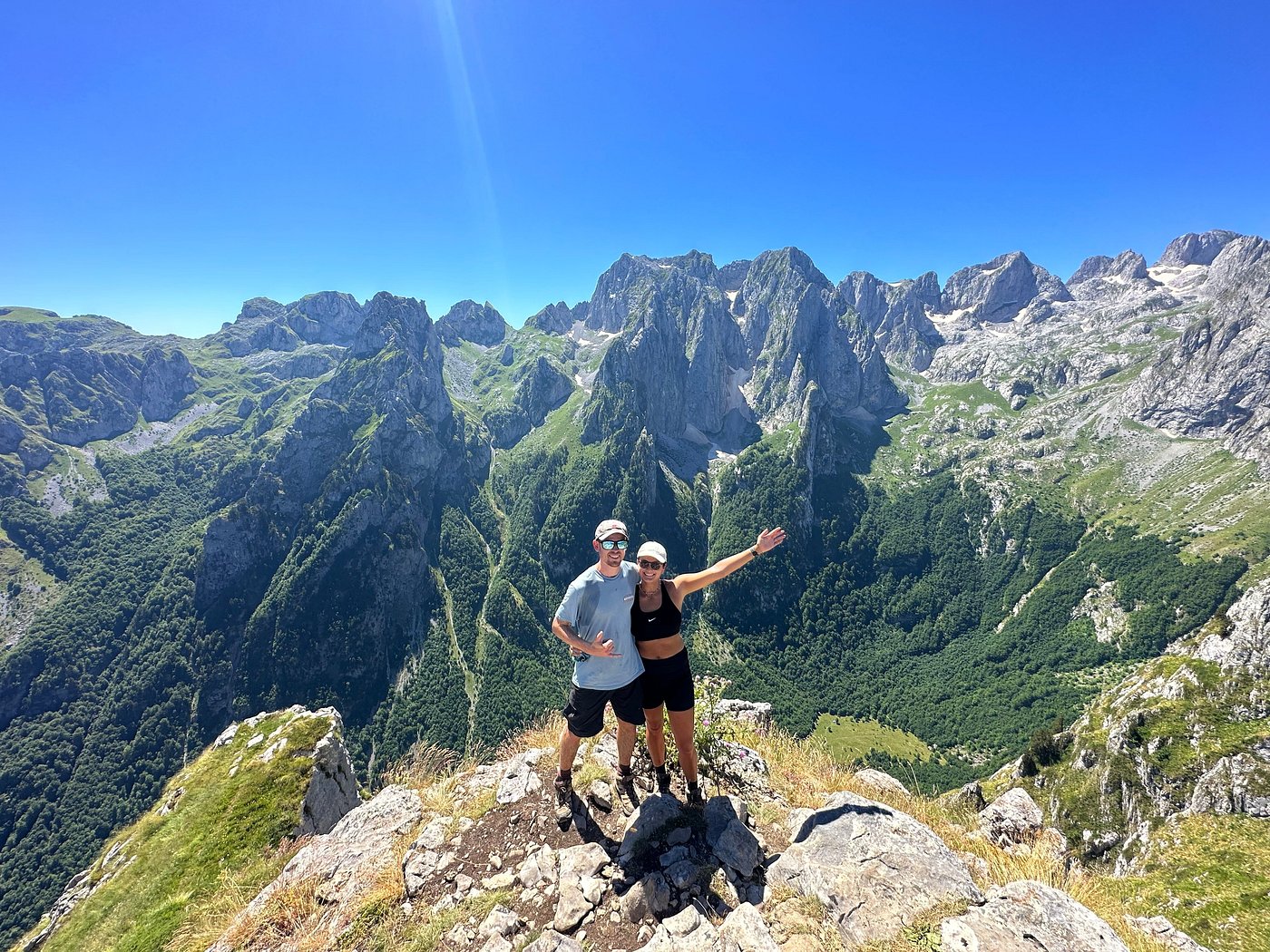 Holiday information
HOLIDAY INFORMATION
Transfers
Transfers during the tour will be private for the group. The private transfer is done by either regular car or 4×4, depending on the road conditions. On the trail, shortcut transfers can be arranged for the trails that are distant or to skip asphalt road segments.
Food & Water
The food in this part of the world will be something you will eagerly anticipate at the end of each day. Food is freshly cooked in a traditional manner and has a mix of Balkan, Turkish, and European influences. At the guesthouses, the breakfasts are simple, homemade bread with locally grown vegetables, dairy products, and eggs. Dinners include traditional soups, meat dishes, vegetables, and pies. Guesthouses also will provide you with a packed lunch – often including a sandwich with cheese and vegetables.
Vegetarianism and diets will not be a problem as the homestay families can provide alternatives. However, the choices are basic and limited.
Consider bringing your water bottle to refill along the way. You can get water from mountain streams or in guesthouses tap water as this is also drinkable water. However, if you are concerned about drinking untreated water, we recommend you take water treatment tablets with you.
Accommodation
The accommodation is in a simple homestay/guesthouse/lodge-style with simple bathroom facilities. Rooms are likely to accommodate between two to five people per room and it may be necessary for male and female groups to share the room unless noted otherwise on your request, but not guaranteed in each guesthouse. It always depends on the availability of rooms.
Sheets and blankets, towels, shampoo, warm water, and other basic services are provided, but we recommend packing a travel towel and sleep sack just in case.
Private rooms at an additional cost; limited availability.
Recommended readings for the region
– The novel called "Broken April" by Ismail Kadare is situated in these mountains. A read before the trip will increase the experience that this trip offers
– Edith Durham – High Albania
Other Info
– Time zone: GMT +1
– Language: Albanian, in Kosovo and Albania, Serbian/Montenegrin in Montenegro. In big cities, many people speak English, but in remote areas, this might not be the case. A lot of people may speak also German due to the large diaspora in Germano-phone countries.
– Electric supply and plugs: 220V, 50 Hz, two-pin round plugs.
– Currency: Euro (EUR) in Kosovo and Montenegro, Lek in Albania, however, you can use Euro freely. Credit cards and Cash machines are available in Peja, Plav, and Gjakova.
– Cost of living: in the region is much cheaper than in Western Europe. Some sample prices follow:
A 3-course meal in a standard restaurant: EUR 7-10 pp

A flask of mineral water from a street shop: EUR 0.5

A cup of coffee: EUR 0.5 – 2

Contact us for your booking at [email protected] or [email protected], or just use the chat form.