Zagori Valley Group Dates
As featured in the Financial Times Embark on a remarkable adventure through the captivating Zagoria region, a mountainous paradise brimming with awe-inspiring landscapes, charming villages, and hidden treasures. Visit Gjirokaster the jewel of Albania.
HIGHLIGHTS
Vjosa River – One of Europe's last living wild rivers
Zagoria Valley – Experience Albanian culture and hospitality
Local Food – Enjoy the local food of Zagoria Valley
Price: Euro 950
Dates 2024: April 20 – 27; May 18 – 25; October 19 – 26; November 2 – 9;
INTRODUCTION
Along the way, you'll encounter picturesque churches, monasteries, and enchanting waterfalls, adding a sense of wonder to your adventure. Experience the warmth and hospitality of the locals as you stay with host families in remote villages, relishing in their homemade culinary delights and engaging in delightful conversations.
The trails are well-maintained, offering comfortable walking conditions. Expect daily walks ranging from 10 to 15 kilometers, with elevation changes of 400 to 750 meters. An exception is the hike across the Dhembeli Pass, a more challenging endeavor that leads a thrilling 1,250- meter descent into Permet.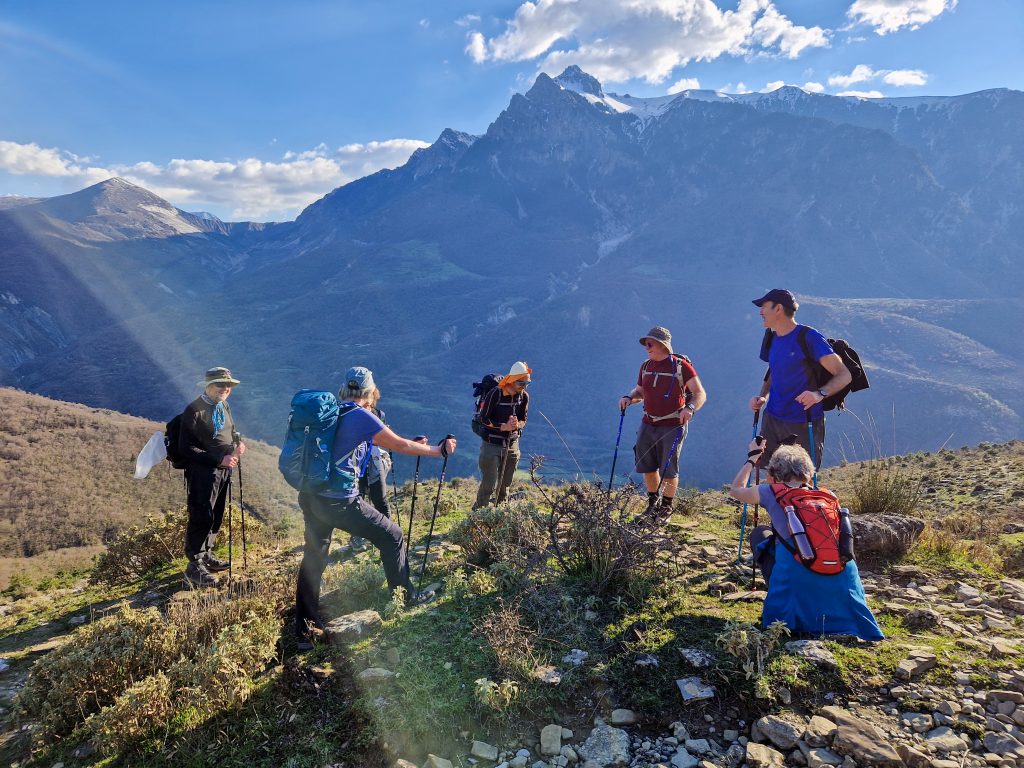 Please contact us if you are a group of friends or you prefer to have a private group we will organize everything for you. 
Other information
Transfers
Transfers during the tour will be private for the group. The private transfer is done by either regular car or 4×4, depending on the road conditions. On the trail, shortcut transfers can be arranged for the trails that are distant or to skip asphalt road segments.
Food & Water
The food in this part of the world will be something you will eagerly anticipate at the end of each day. Food is fresh cooked in a traditional manner and has a mix of Balkan, Turkish and European influence. At the guesthouses the breakfasts are simple, homemade bread with locally grown vegetables, dairy products and eggs. Dinners include traditional soups, meat dishes, vegetables, pies. Guesthouses also will provide you with a packed lunch – often including a sandwich with cheese and vegetables. Vegetarian and diets will not be a problem as the homestay families can provide alternatives. However, the choices are basic and limited. Consider bringing your water bottle to refill along the way. Water is provided from mountain streams or in guesthouses tap water is drinkable. However, if you are concerned about drinking untreated water, we recommend you take water treatment tablets with you.
Accommodation
The accommodation is in simple homestay/guesthouse/ with simple bathroom facilities. Rooms are likely to accommodate between two to five people per room and it may be necessary for male and female groups to share the room, unless noted otherwise on your request, but not guaranteed in each guesthouse. It always depends on availability of rooms. Sheets and blankets, towels, shampoo, warm water and other basic services are provided, but it's recommended to pack a travel towel and sleep sack just in case. Private rooms at additional cost; limited availability.
Equipment
It is recommended that clothes are made for hiking and are from synthetic breathable materials. It is recommended to have more thin layers rather than large jackets that take space and are heavy. When hiking it is better to have several layers of thin clothes, no thick jackets. Dressing in layers allows you to adjust to changing weather and activity levels. The following list should help you with your packing. As a general rule, you should try and pack as lightly as possible because you will be expected to carry your own bag (unless luggage transfer is included). In the evenings some warmer clothing might be useful.
What to take
Make sure! You have your passport with you
You have proper equipment for hiking:
1 – Hiking Boots (light hiking shoes with a good tread are recommended)
1 – Water canisters 1 to 1.5 liters
1 – Mountain bag 20 to 25 liters (if luggage transfer is included)
1 – Headlight
1 – Rain jacket/poncho
2 – Hiking T-shirt synthetic (no cotton)
1 – Hiking pants
1 – Fleece – One pair of spare socks per hiking day (there is option of self-hand washing)
1 – Hat (sun protection in summer, warmth in winter)
1 – Sunglasses
1 – Sun cream
1 – Walking sticks
1 – Camera, telephone, GPS (optional)
Budget
Please budget for additional expenses like beverages, additional meals and entrance fee in the national parks for self-guided travelers.
Tipping
Tipping is not obligatory, however if you are happy with the services provided, a tip is always appreciated.
We recommend you calculate €10-€15 per day to cover your tipping for the guide and €3-€5 for other service providers. But of course, you can tip more or less, depending on how you see it fit.
Lost and Found Policy
Our company is not responsible for lost, damaged, or stolen personal items. Should any guests lose personal belongings at the accommodation, if recovered, the item will be shipped back at the owner's expense, if claimed within 14 days.
Climate
Hiking season in the Përmet region typically spans from early April through late October.
For an ideal visit, it is recommended to plan your trip to the area during either spring or autumn. Early in the year, you can witness the breathtaking beauty of snow-capped mountains, vibrant flora, and verdant valleys resembling the picturesque high-altitude valleys of Bhutan. Whilst September marks the beginning of the harvest season, where fruit-laden trees and the distillation of raki in villages add to the region's charm. As autumn unfolds, the forest transforms with a kaleidoscope of colors, while the mountain peaks start receiving their first dusting of snow.
Feedback
We welcome and encourage you to provide feedback, comments and suggestions for that allow us to make improvements to the services for future travelers.
You may submit Feedback by emailing us at [email protected]