Ski touring in Sharr Mountains
Do you want to escape from the beaten tracks for several days, to breathtaking landscapes? Join us for a ski touring in Kosovo and Albania, an adventure of ascending and descending the unforgettable slopes of the most exciting Sharr Mountains. The tour is thought through the whole range, undoubtedly selecting the best parts of each valley.
HIGHLIGHTS
Korab Peak – The highest peak of Albania and North Macedonia
Radomire – The picturesque village in North Albania with a very low number of visitors
Virgin mountains – Trails that are not crowded with tourists and the views are not interrupted by ski lifts or other men made structures
Local food – Local cooked specialties based on meat and vegetables and dairy products
Hospitably – People in this region have not seen a big number of tourists they are happy to see you visiting the place and will pay a sincere welcome to any traveler.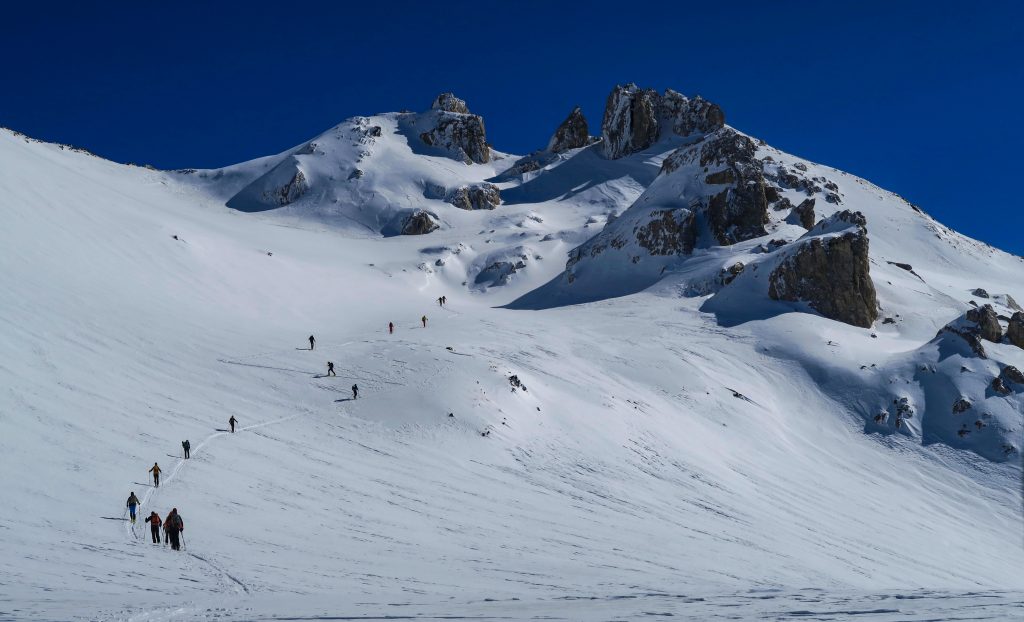 Guided tour can be arranged upon request.
For dates or group inquiries please contact us!
INTRODUCTION
Sharr mountains are perfect for ski touring in Kosovo, Albania and North Macedonia. They lay between Kosovo, Albania and North Macedonia and are high round older mountains with very few rocky cliffs. The tour is thought through the whole range of the mountains selecting the best parts of each valley. Furthermore, you will reach mountain peaks with open panorama views. Among the places, you will visit some popular ski resorts with crowds at the beginning of the trail, some are in more remote areas where indeed you will be "solo" enjoying the mountain.
PACKAGE INCLUDES
Accommodation in shared rooms
Meals: 2nd to 7th day three meals; 8th day breakfast
Guide
Transfer: Airport to Airport with all internal transfers
Border crossing permits
PACKAGE EXCLUDES
Insurance should be secured by the travelers
ITINERARY
Day 1: Arrival at Prishtina Airport. Transfer to Brezovice
Definitely, Brezovica is Kosovo's biggest ski resort, but it is small compared to anything in Switzerland or generally in Western Europe. It has some skiing pistes, black, red and blue also. The lifts are old, some up to 50 years, because the place lacks investment. This day you can do a 2-hr short tour to Mali Ministrit and wait for the sunset at the top, or decide to ski at the ski center.
Day 2: Ski touring in Brezovice
Distance: 8.35 km
Uphill: 940 mm
Downhill: 948 m
Black Rock Peak 2536m, is the highest peak in Brezovica ski center. Like all the peaks of Sharr, it's situated on the border with Macedonia. The altitude difference is 870 m. Climbing takes more or less 3.5 h then you will be sliding down the slope. Transfer to Prevalla, 40 min.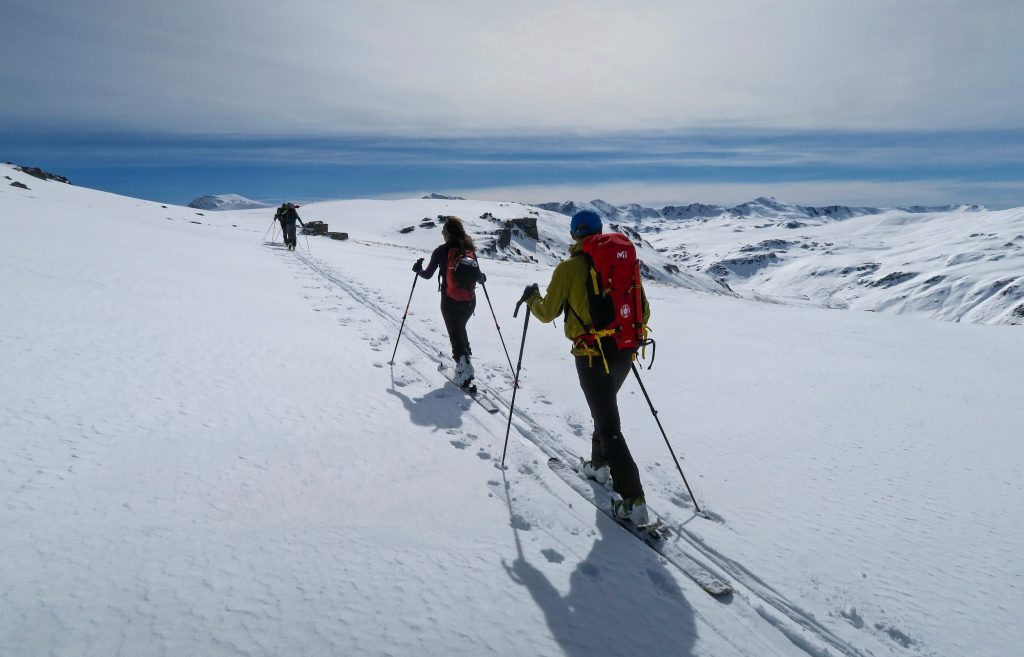 Day 3: Ski touring in Prevalla
Distance: 11.6 km
Uphill: 1215 m
Downhill: 1168 m
This trail will take you to Dovodenica peak, 2510m, clearly a wild unspoiled area. On this day you will walk more since the trail is longer and has a bigger altitude gain. There is an 1190 m difference from the starting point. The climb will take approximately 4.5 h and in addition to this, you will have a free skiing ride downhill.
Day 4: Ski touring in Prevalla
Distance: 10.9 km
Uphill: 1116 m
Downhill: 1083 m
Prevalla is not a ski center, the only activity provided is ski touring, with a little lift functioning from time to time. The mountains will be more or less empty of people and any sign of humans including the possibility of panorama without lift cables too. You will start at 1515 m and reach Guzhbaba peak 2609 m. Following the itinerary, the trail will take approximately 4.5 h, plus the downhill. Transfer to Dragash.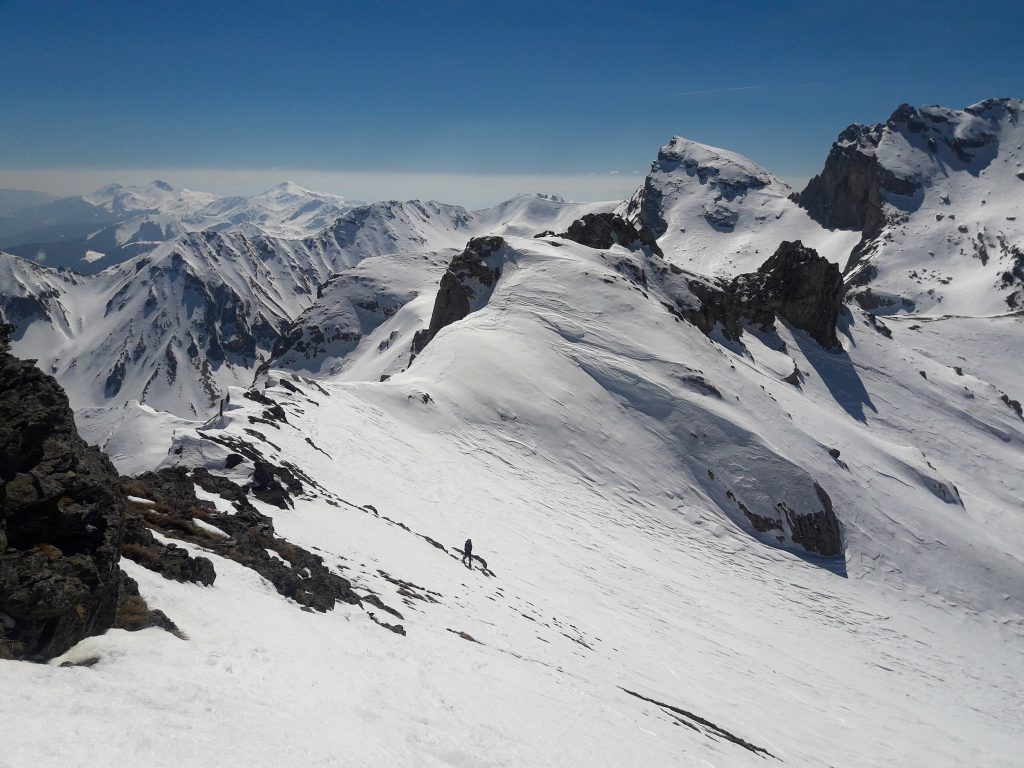 Day 5: Ski touring to Kleq peak
Distance: 16.9 km
Uphill: 1267 m
Downhill: 1279 m
Following the itinerary, the day will start with a 10 minutes transfer that will take you to the start of the trail, to the village of Radesha. At this time you will start ski tour towards Kleq Peak 2467. Ski down for dinner and after we transfer to the village of Radomira in Albania (3hrs), where we will spend the next two days.
Distance: 15.5 km
Uphill: 1567 m
Downhill: 1567 m
Radomira is a small village in north Albania that is new in tourism dominated by summer hiking trails. The village is picturesque with houses made of stone and narrow roads too. From here you will climb the highest mountain of Albania and North Macedonia. This without a doubt will be a special experience, the stay will be at a guest house, basic amenities provided. This is a must-do for ski touring in Albania.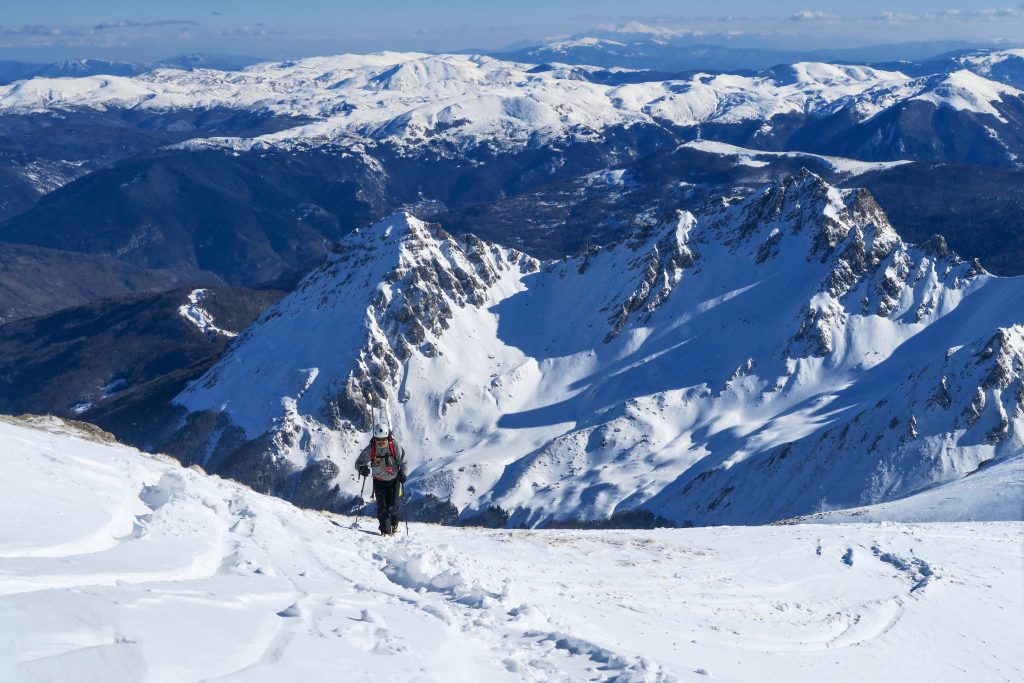 Day 7: Ski touring in Radomire
Distance: 7.52 km
Uphill: 939 m
Downhill: 900 m
On the second day, you will climb the twin peak of Korab, called the small Korab 2300m. The trail will take approximately 4 h, and then you will ski down. The day will end with a transfer to the city of Prizren in Kosovo for a traditional dinner, and with it also ski touring in Kosovo and Albania.
Day 8: Departure day
Depending on the flight departure time, you can do a short tour around the city of Prizren before being transferred to Prishtina Airport.
HOLIDAY INFORMATION
Transfers
Transfers during the tour will be private for the group. The private transfer is done by either regular car or 4×4, depending on the road conditions. On the trail, shortcut transfers can be arranged for the trails that are distant or to skip asphalt road segments.
Food & Water
The food in this part of the world will be something you will eagerly anticipate at the end of each day. Food is freshly cooked in a traditional manner and has a mix of Balkan, Turkish, and European influence. At the guesthouses, the breakfasts are simple, homemade bread with locally grown vegetables, dairy products, and eggs. Dinners include traditional soups, meat dishes, vegetables, pies. Guesthouses also will provide you with a packed lunch – often including a sandwich with cheese and vegetables.
Vegetarianism and diets will not be a problem as the home-stay families can provide alternatives. However, the choices are basic and limited.
Consider bringing your water bottle to refill along the way. Water is provided in guesthouses, tap water is drinkable.
Accommodation
The accommodation is in simple home-stay/guesthouse/lodge- style with simple bathroom facilities. Rooms are likely to accommodate between two to five people per room and it may be necessary for male and female groups to share the room unless noted otherwise on your request, but not guaranteed in each guesthouse. It always depends on the availability of rooms.Sheets and blankets, towels, shampoo, warm water and other basic services are provided, but it's recommended to pack a travel towel and sleep sack just in case.Private rooms at an additional cost; limited availability.