This tour provides a chance to climb the highest peak of 4 Balkan countries, Kosovo, Montenegro, Albania, and North Macedonia in less than a week. You will be hiking through some of the most remote parts of Europe enjoying unprecedented hospitality. Though you will climb four countries, it will be only three peaks as Albania and North Macedonia share the same highest peak.
Day 01: Flight or arrival day
For this tour, you can fly in Prishtina, or Skopje (plus 100 km transfer). But, the tour can be with some changes also from Podgorica, Tirana and Ohrid Airport. Please contact us so we plan it for you. We will organize this day based on the flight timings.
Day 02: Transfer Peje – Gropa Erenikut. Hike Gjeravica highest peak of Kosovo, arrive in Doberdol – Very remote, dormitory rooms shared bathroom
Distance: 18km (11.1 miles)
Uphill: 915m (3001ft)
Downhill: 915m (3001ft)
Minimal elevation: 1534m (5032ft)
Maximal elevation: 2650m (8694ft)
After a 1 hrs 30 min transfer the hike will start to climb Kosovo's highest peak. This path will take you to the highest mountain of Kosovo and then through the border into Albania. A trail that is included in many Peaks of the Balkans Trail. You will go through a border that is almost not patrolled at all. However, during the communist regimes in this part of the world, this was the border between Albania and Yugoslavia and one of the most protected borders in the world. You will be hiking between two shepherd's villages in two different countries, however sharing the same culture and language. These two valleys have been connected by culture but disconnected by political borders. The hike will include two glacial lakes and reaching one of the most isolated corners of Europe: No mobile network, no electricity, and no roads.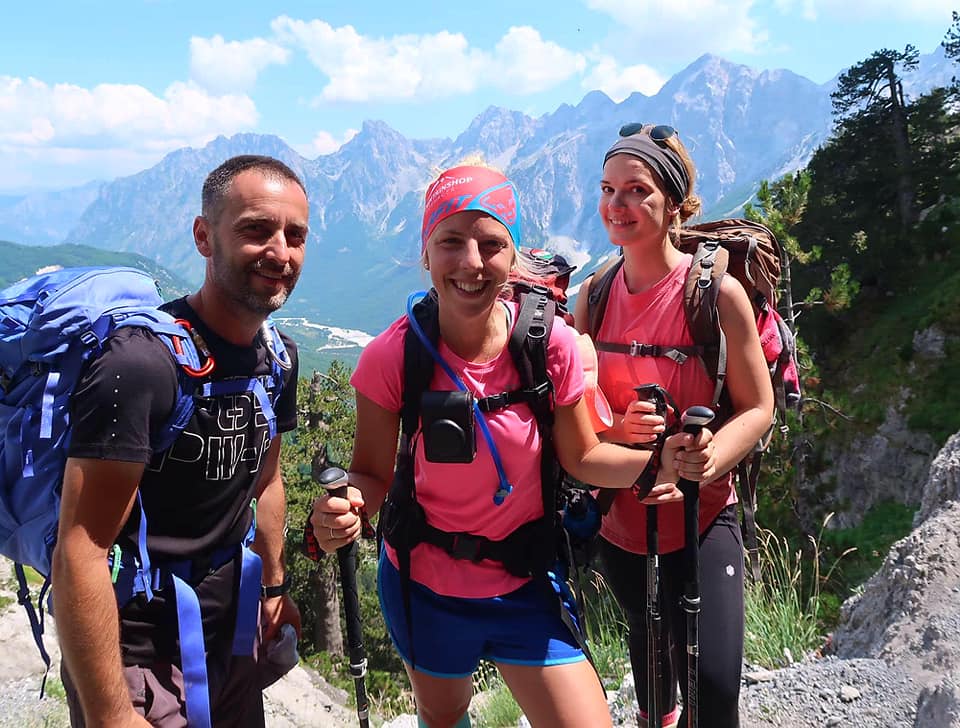 Our guide Fidan with hikers walking toward Gjeravica.
Day 03: Hike Doberdol – Cerem – Very remote, dormitory rooms shared bathroom.
Distance: 15.5km (9.6 miles)
Uphill: 440m (1443ft)
Downhill: 1030m (3379ft)
Minimal elevation: 1220m (4002 t)
Maximal elevation: 1920m (6299ft)
Today you will walk between two shepherd's villages which are inhabited only during the summer in order to use the abundant pastures. Doberdol a village which is connected to the world only by small tracks is not reachable by cars. The village is situated below the triple-border point between Albania, Kosovo, and Montenegro. On the way, you will pass through the village of Balqin where you can stop for a glass of milk served by the local shepherds. These mountains are part of the Gashi valley from where also the Gashi tribe comes from. This part of the mountains is under strict protection, as they are also home to the glacial lakes of the Sulbica plateau. Gashi valley was included in the UNESCO Natural World Heritage list in 2017.
Day 04: Hike Cerem – Zla Kolata peak – Valbone – Boutique Hotel, private bathrooms
Distance: 21.3 km (13.26 miles)
Uphill: 1820 m (5974 ft)
Downhill: 1581 m (5190 ft)
Minimal elevation: 955 m (3135 ft)
Maximal elevation: 2549 m (8365 ft)
Kollata Keqe or Zla Kolata is the highest peak of Montenegro. You will be hiking most of the time in Albania with a short crossing to Montenegro to climb the peak. Like most of the peaks in this part of the Accursed Mountains, this is a limestone peak with very little vegetation on its highest part. However, the trail to there is very diverse with spectacular views. From the peak, one gets a clear view of Maja Jezerce and Gjeravica.The trail to Kolata Keqe (Zla Kolata) is not that long however it has steep parts which makes it difficult. After summiting the peak you will descent towards the village of Valbone.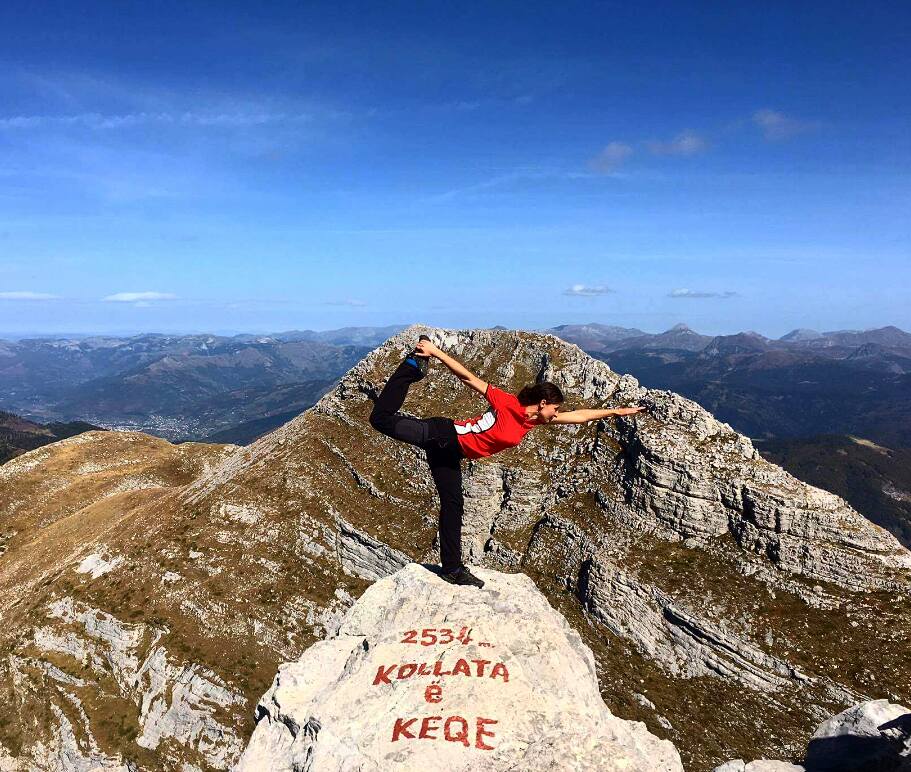 Day 05: Transfer Valbone – Prizren – Radomire, Twin rooms, shared bathroom.
This transfer will go through mountain roads initially next to the Valbona river with its featured green color. You will drive through two northern cities of Albani, Bajram Curri and Kukes. This drive will take you through Kosovo and you will stop at the city of Gjakova and Prizren for a visit. Gjakova was one of the largest trading cities in the Ottoman period and still boasts one of the largest Ottoman bazaars in the world, while Prizren is one of the oldest cities in Kosovo. Prizren is the capital of cultural Kosovo – both contemporary and ancient. This blend of the old and the new makes it one of the must-see stops while visiting Kosovo. In Prizren, you will stop for a traditional in one of the restaurants, in the main square of the city, before continuing to Radomire.
Day 06: Hike Radomire – Korabi peak Highest peak of Albania and North Macedonia
Distance: 15.5 km ( 9.61 miles)
Uphill: 1567 m (5142 ft)
Downhill: 1567 m (5142 ft)
Minimal elevation: 1263 m (4145 ft)
Maximal elevation: 2716 m (8912 ft)
Radomira is a small village in north Albania that is new in tourism dominating by summer hiking trails. This is a picturesque village with stone walls and narrow paths. From here you will climb the highest mountain of Albania and North Macedonia. This will be a special experience, the stay will be at a guest house, basin amenities provided. The trail from Radomira 1245m to Korab peak 2751m.
Day 07: Transfer to Prishtina, Tirana, or another location.
For this day we will work with the client to find the best activities which will be adjusted to the flights. A free day can be organized in a spa hotel or in the cities in the Balkans.