Zagori Valley Albania hike
Zagori Valley Albania hike
Learn why Leonardo DiCaprio lobbied to have the Vjosa River made into a natural park. Embark on an unforgettable 7-night adventure in Albania, combining the unique off-the-beaten track of hiking and cultural exploration. Prepare yourself for a journey through ancient ruins, picturesque villages, and captivating cities.
The tour takes you on hikes from Peshtan to Limarë, Limarë to Hoshtevë, and Sheper to Permet, where you'll witness stunning vistas of valleys and mountains through the majestic Zagori Valley. Immerse yourself in the rich history and traditions of Albania as you visit the thermal pools of Benje and explore the UNESCO-protected city of Gjirokastra. Uncover the secrets of Adrianopolis and the archaeological park of Byllis, where ruins perch atop mountains, offering panoramic views of the Vjosa River.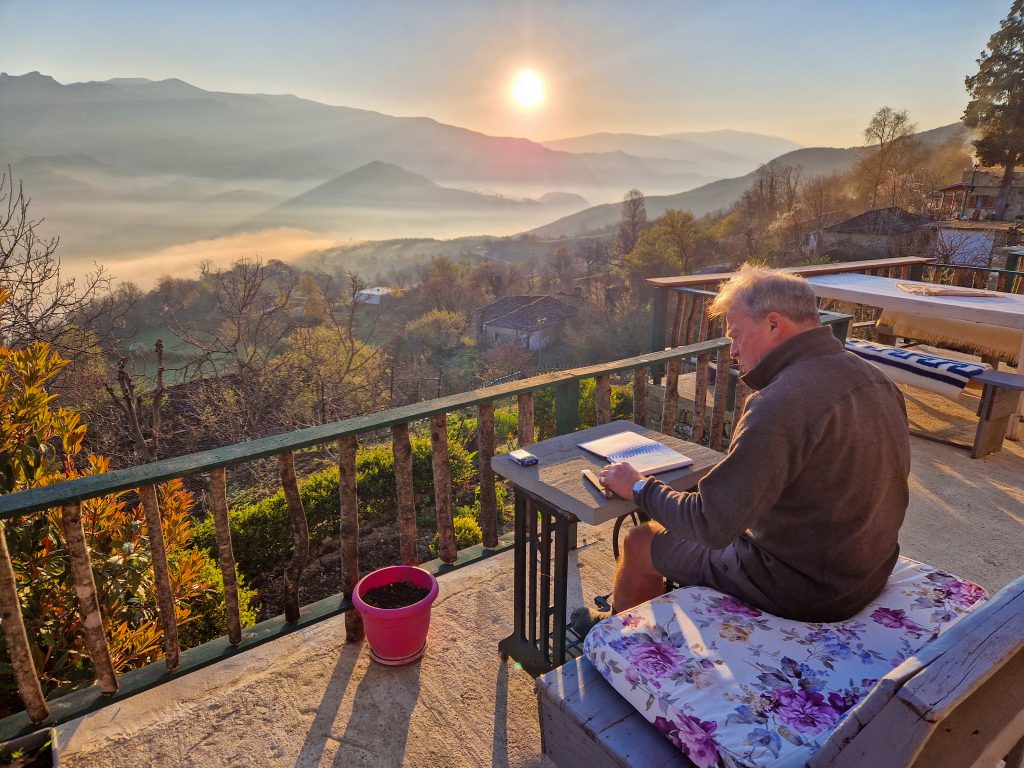 Itinerary
Join us for 7th to 14 of October hike, contact us for your private tour [email protected]
Day 1, Saturday: Arrival
Upon arrival, you will be welcomed at Tirana Airport. A lunch will be organised where you will meet your guide. Continuing your journey, you will drive to Apolonia, the largest ancient Greek colony in Albania, known for its rich historical significance. The evening and the dinner will find you at Peshtan, a charming village, where you will have a delightful dinner at a guest house.
Day 2, Sunday: Peshtan – Limarë
Distance: 11 km
Elevation Gain: 750 m
Elevation Loss: 430 m
Peshtan is a village steeped in history, as it witnessed a significant battle during the Greco-Italian war and holds remnants of World War II. Your local guides, Mira and her husband, who are also teachers in the village, will provide you with a fascinating tour of the first battle the the axes lost in WWII.
Embarking on a shorter hike, you will start from Peshtan and walk 10 kilometers to Limara. Along the trail, you will encounter the magnificent stone bridge over the Deshnica River, built by the renowned Albanian leader Ali Pashe Tepelena during the nineteenth century. As you hike, enjoy breathtaking views of the Deshnica River valley, with the majestic Strakavec peak towering above 2000 meters. After approximately 5 to 6 hours of hiking, including a final ascent, you will reach the welcoming village of Limara, where Nol, the village teacher, will host you in his guest house.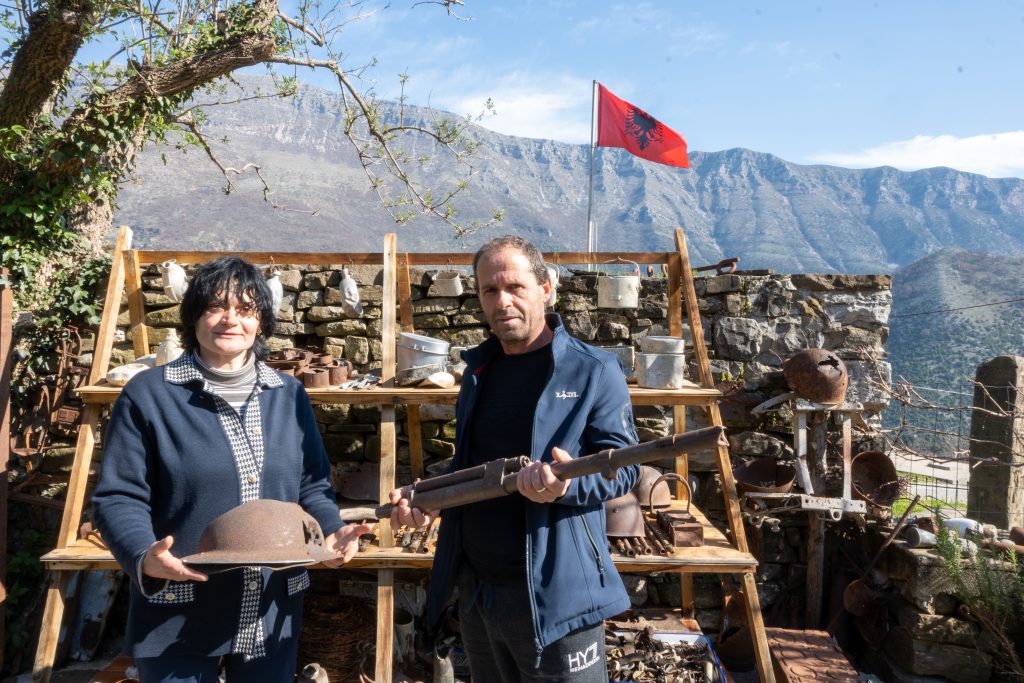 Day 3, Monday: Limarë – Hoshtevë
Distance: 14.5 km
Elevation Gain: 730 m
Elevation Loss: 580 m
Limara offers a glimpse into the past, with its time-frozen atmosphere and picturesque surroundings. As you explore the village, you will be captivated by the three imposing peaks of Strakavec, Hormova, and Sheshi Malit, creating a stunning backdrop. The village is adorned with stone houses and an Orthodox Church. These buildings bear witness to the struggle for religious freedom during the early 20th century, marked by their transformation from places of worship to cattle farms under communist rule. Limara is also home to hundreds of sheep and goat that pasture these mountains and privide for the eco food in the village and the valley.
Your hike from Limara to Hoshteve will immerse you in the beauty of beech and oak forests, vibrant fields, and meadows adorned with colorful flowers. While progressing, you will leave Strakavec peak behind and witness the Dhembeli massive on your left, resembling a line of tooth-like peaks. Take a refreshing break by dipping your feet in a cool stream while enjoying a picnic. The trail will lead you through the nearly deserted village of Deshnice, often considered one of the most isolated villages in Europe. Your journey culminates in Hoshteve, a village renowned for its larger church and remarkable icons. At hoshteva you will take a transfer to the village of Sheper.
Day 4, Tuesday: Sheper Hike to Permet
Distance: 10 km
Elevation gain: 650 m
Elevation Loss: 1250 m
Sheper is the largest village along the trail, situated at an altitude of 800 meters, making it the highest village in the region. The village features its own church and has recently undergone renovation, preserving its ancient exterior.
This day's hike presents what some consider to be the best trail in the region, connecting two valleys and passing through Dhembel, reaching an altitude of 1468 meters. As you climb 660 meters, you will encounter vast meadows filled with vegetation that has nourished sheep and goats for centuries. Take a moment to sit and imagine how even before the time of Christ, Illyrian shepherds grazed their lambs here, perhaps playing a tune on their flutes. Reaching the pass, you will be treated to a panoramic view of Permet, Vjosa River and the Zagori Valley. After savoring the view and the tranquil atmosphere, begin your descent towards Permet, which spans a significant altitude drop of 1200 meters. The rocky trail along the descent offers a spectacular panorama. On the way, the village of Leuse presents an ideal stop and boasts another orthodox church adorned with frescoes. Refreshing drinks at a local bar and transfer to Bual village.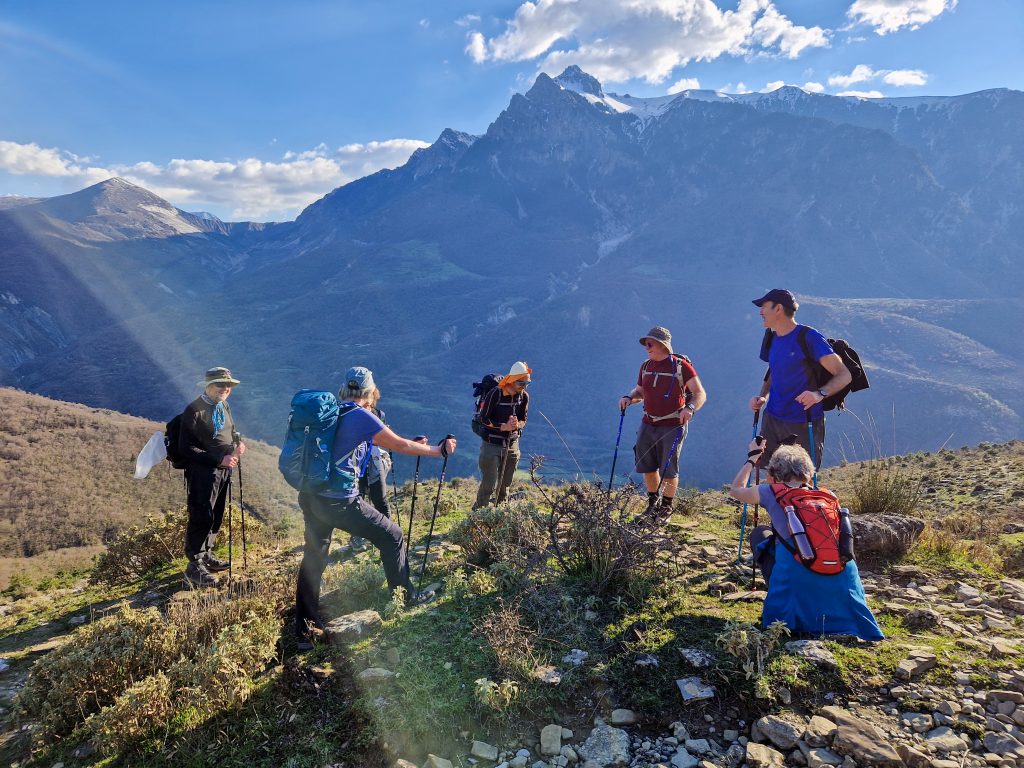 Day 5, Wednesday: Visit Permet and the Langarica Canyon
Distance: 6 km
Elevation gain: 350 m
Elevation Loss: 350 m
In the morning, you will awaken to a breathtaking panorama of the Vjosa River, a natural park that has garnered the attention of superstars like Leonardo DiCaprio, who advocated for its preservation. The charming traditional house in Bual is managed by a family from the town of Permet. Here, they prepare a wide array of dishes, showcasing the richness and diversity of the local cuisine. Here you'll be surrounded by a unique ambiance adorned with artifacts from the communist era, adding a touch of nostalgia to your dining experience.
The visit will continue at the entrance of the neighboring Langarica Canyon. The warm thermal pools of Benje are believed to have curative properties for various ailments. They provide a delightful treat after the past few days of hiking, allowing you to soak and relax in their sulfuric waters or venture through the river canyon.
The transfer from here to Gjirokastra takes approximately 90 minutes, and we will be staying in one of the traditional Ottoman buildings that grace this ancient town. Begin your exploration of the "City of Stone," wandering its streets and absorbing the unique ambiance found in the many quaint cafes scattered throughout.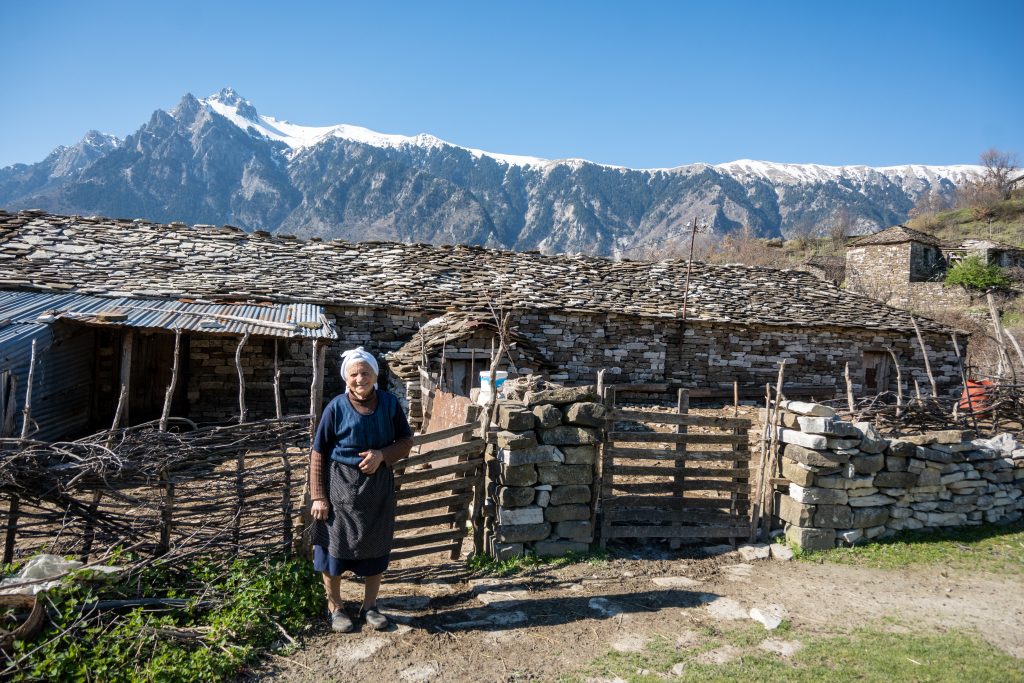 Day 6, Thursday: Gjirokastra
A local guide will accompany you on a tour of this captivating city, often referred to as a living museum. Gjirokastra holds the status of a UNESCO-protected site and has been featured in the works of Ismail Kadare, one of Albania's most renowned writers. In his book, "Chronicles in Stone," Gjirokastra is described as "perhaps the steepest city in the world, where one can walk down the street, stretch out their arm, and hang their hat on a minaret." The city's stone pavements and the commanding castle overlooking it create a distinct atmosphere.
The cultural tour of Gjirokastra will offer you a deeper understanding of the history and heritage of Southern Albania, specifically the Tosk region.
Afterward, transfer to Tirana, where you will enjoy a farewell dinner after a three-hour journey.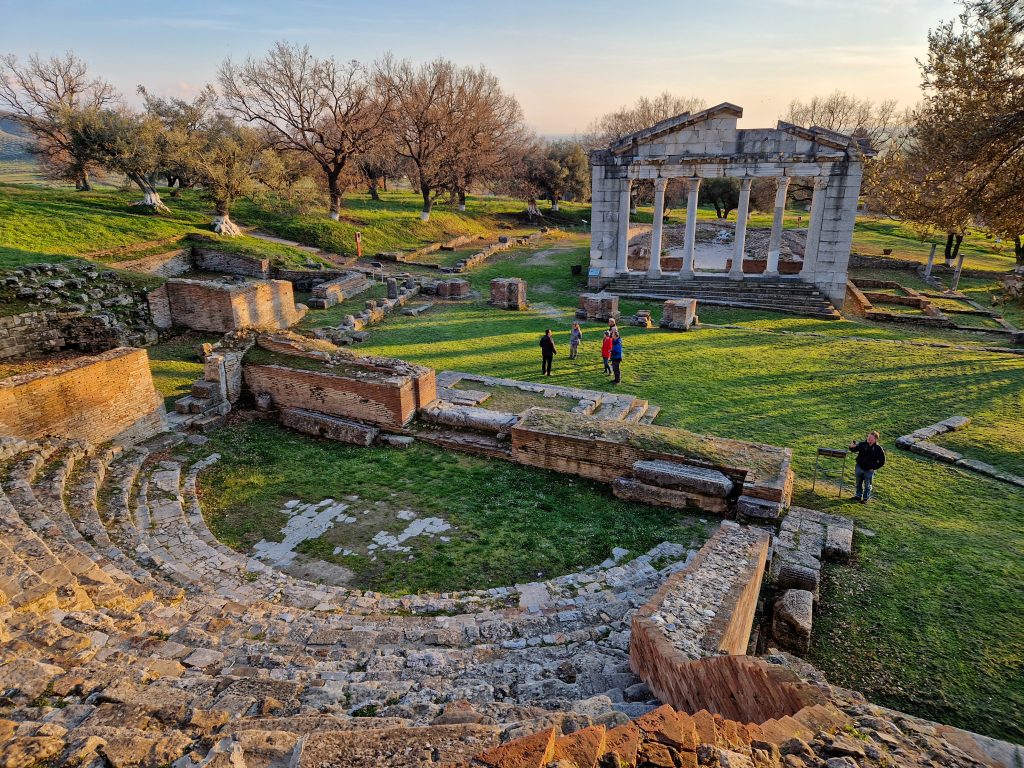 Day 7, Friday: Adrianopolis, Byllis, and dinner in Tirana
A four-hour drive will lead you to a unique archaeological experience. Your first stop will be Adrianopolis, an ancient city that remains largely buried underground. Here, you can sit in its amphitheater and marvel at the surrounding valleys and towering mountains that separate Greece from Albania. The beauty of this experience lies in the opportunity to explore at your own pace, free from the crowds that often accompany popular tourist destinations.
After Adrianopolis, the archaeological park of Byllis awaits, offering a captivating blend of ruins nestled atop mountains with panoramic views of the Vjosa River. While this site may be more frequently visited, it still maintains a sense of tranquility, allowing you to savor the surroundings and immerse yourself in its historical significance.
Following your time in Byllis, you will travel to Tirana, the modern capital of Albania.
Day 8, Saturday: Tirana and transfer to Airport
Embark on a city tour of Tirana, delving into the captivating history of Albania's communist era. Visit the military bunkers constructed by Enver Hoxha, known as one of the most paranoid leaders, akin to North Korea's Kim Jong Un. Depending on your flight schedule, you may have the chance to extend your visit at the House of Leaves, a secret police museum in Tirana, providing further insights into the country's complex past.
Included: All transfers, airport to airport.
Accommodation: 7 nights
Meals: Lunch and dinner on the first day, three meals per day from the 2nd to the 6th day
Price: Euro 950 per person.
Join us for 7th to 14 of October hike, contact us for your private tour [email protected]