Horse riding in Valbona
Join us for Valbona horse-riding tour in the Peaks of the Balkans in the Accursed Mountains with the master of horses Dardan Jubani. After establishing his business in the Valbona Valley as a transporter of luggage for hikers Dardan decided he can do more. With his good bread mountain horses, he now carries people instead of their luggage.
Now, Dardan offers horse-riding tours from Valbona as one-day loop tours toward Stanet e Rosit through the village of Kukaj. In this trail you will ride through a 4×4 road, to enter an ancient forest and to arrive in open pastures. Here, you enjoy open views bordered by the rocky Valbona peaks. This will give you the feeling of "magnificent isolation" as Edith Durham the English traveler put it. There you will meet the last family that still has old-style shepherds and produces dairy products.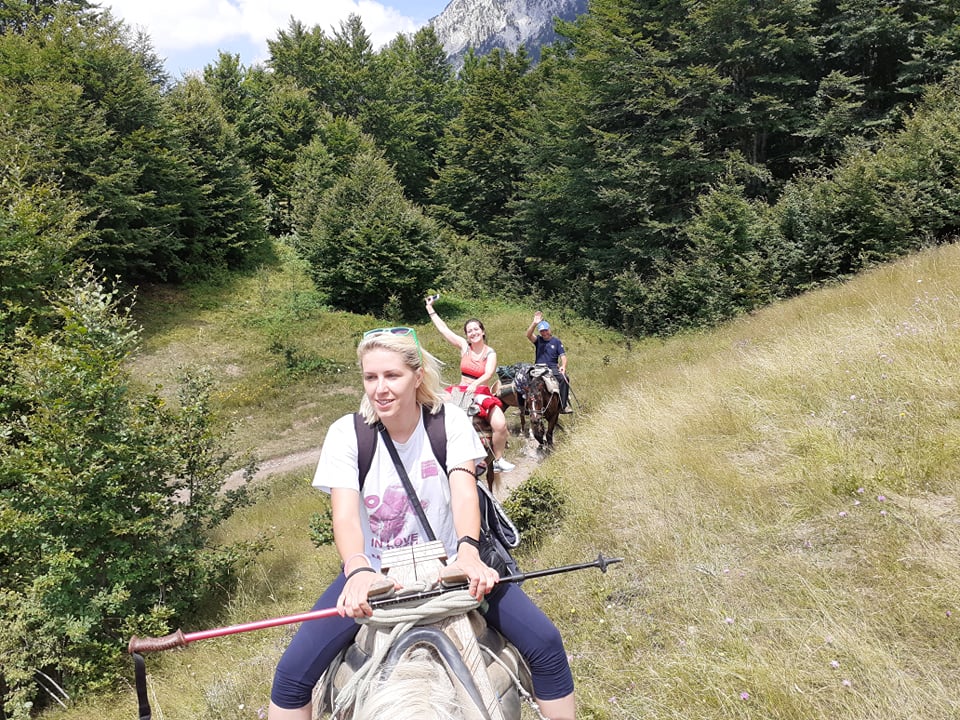 A longer trail is the one that takes you to the Valbona Waterfall and back. This 15 kilometers equestrian experience includes riding through the valley of Valbona next to the river. A fairly easy road will take you next to the waterfall. There you can enjoy tiny water drops spraying you and your horse as you watch the water falling from the mountain.
Peaks of the Balkans in horse riding
There, other than the water you can enjoy some local specialties.
Balkan Natural Adventure will design a horse-riding tour based on your request. These can include rides from Valbona to Cerem as a part of your hike. Or even longer multi-day loops in the accursed mountains. Dardan also offers options of a combination of horse riding with hiking for mixed groups that do not share the same strength.   
The booking for these horse riding experiences can be made through Balkan Natural Adventure and are charged by the hour or by day depending on your request. The minimum group is two clients.
The saddles are not sophisticated and they cannot take harsh terrain.